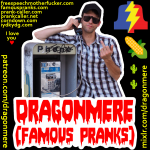 CLEVELAND MEETUP I'M GOING YOU SHOULD TOO WE CAN TRADE BACKRUBS SERIOUSLY.
This show might have been more fun to do than it was to edit, but i hope its just as fun to listen to it. who knows. wasted was absent and it has been marked in his permanent record.
Topics include; War-Sister-Whore-Chester sauce, clean money, bedding bags, SUCK A DICK OLD MAN or HIT THE MOM, cart corral arrangement, free speech policies, Blooper-reel, something funny, Christ/Crystal, and peeing all over the place.