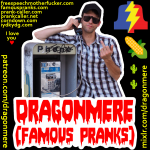 This show is two weeks old because I uploaded the PRANKSGIVING show instead of this show last week. I hope this isn't too confusing. If anyone is having difficulty just use this chart.
This show had calls about toilet wires and buckets of blood, both hypothetical and real, as well as bags of meat and the associated toilet ice. This lead to getting permission to urinate on a towel, and naturally to trying to chloroform myself. Obviously. Not to mention all the bad dates I had with employees of Arbys mostly. Paige was the worst. 40%?
It's looking like my sticker resupply is not going to be here before the end of the month, oh well. I'll be doing things with them as soon as they get here. Get ready.