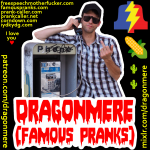 Hi. I think I'll do a live show tonight at 7pm Eastern. I did one last week and it was fun. This is an audio recording of that show. It contains, at a minimum, the following;
Old Keith, Helping vs Leaving Alone, Meth Hole, Automatic Doors, Clothes On Sex Computer  Time, Dating Policy. And we revisit classics such as eat the soap, motorcycle help, pick up for delivery, unwanted hotel guest,  and bad dates.
It was fun. I hope tonights show is fun too. I love you.